Spring is coming and so is kitten season! It's the time when we once again need to bring attention to a critical issue – preventing pet over-population through spay/neuter. In an effort to get the word out, Kindred Kitties is holding its 7th annual spay/neuter awareness event, Hike to Lower the Spike 2023.
Date:  The hike is Sunday, May 21st 2023
Location: Bristol Woods Park, 9800 – 160th Avenue, Bristol, WI.
Time: 9:00am Registration / T-shirt Pick up – 10:00am Walk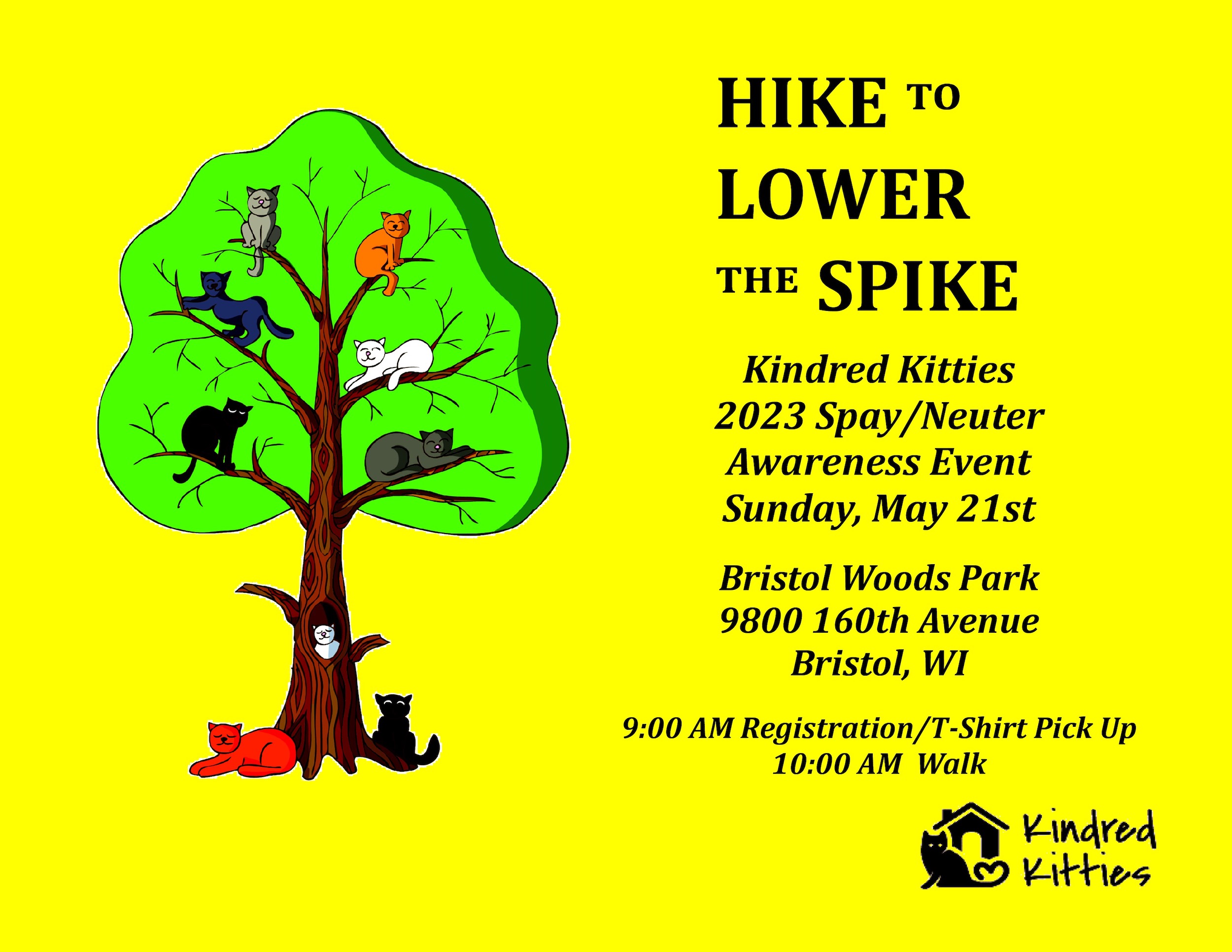 Money raised from the "Hike" helps offset our spay/neuter costs. In 2022, we facilitated the spay/neuter of 376 cats which included every cat we adopted out last year. We also funded nearly $8,000 in subsidies to individuals who needed assistance getting both owned and neighborhood cats fixed!!
How can I be involved? 
There are several ways in which you can be part of Hike to Lower the Spike!
Become a Hike Sponsor! We are looking for businesses, teams, families, and even pets to sponsor the event. All sponsors will have their names printed on our Hike T-Shirts. Sponsorship levels are: $400 Business Logo, $200 Business Name, $100 Family or Team Name, $25 First Pet Name, $10 Each Additional Pet Name. The sponsorship forms below have all the necessary information for businesses and individuals to become hike sponsors.
Sponsor a Spay or Neuter! Just one un-spayed female cat, her mate, and all of their offspring, producing two litters per year, with 2.8 surviving kittens per litter can result in 370,092 in only seven years!! The best way to prevent pet-over population is through spay/neuter. Support our mission in the community through sponsoring a spay ($50) or neuter ($40). Just click below to print a form and sponsor a spay or neuter.
Be a Participant! The more hikers the better!! Early registration through May 5th for individuals nine years of age and older is $25. Walkers must be registered by May 5th to receive a T-Shirt. Registration May 6 through the day of the walk is $30. Bring a friend, form a team, or walk your dog (dogs must be friendly, leashed and up to date on vaccines). To register online or print a form, just click below.
$25 EARLY REGISTRATION ENDS MAY 5TH
$30 REGISTRATION MAY 6TH THRU MAY 21ST
Bristol Woods is home to the Pringle Nature Center, and has 4.28 miles of hiking trails, so you can pick the distance you want to hike. Come out for an enjoyable morning hiking through the woods for a great cause – raising money to spay/neuter more cats! There will be raffles, merchandise, a bake sale, and — as always — cat bingo in the shelter!!