A Vision of the Future for Kindred Kitties
For nearly 18 years, Kindred Kitties Adoption Center on 59th Street in Kenosha has played an important role in
the life of our organization.   The Center was opened primarily to house adult cats in a place where people could
see and interact with them.  The first year the Center opened, our adult cat adoptions increased by 25%!
Over time, however, the Adoption Center has become much more than just a place where adult adoptions
happen.  It has become a hub of activity for both foster families and volunteers. It is here where as many as
200 cats and kittens a year are seen for intake and transfer to foster homes. And about 15% of those kitties will
return from foster homes to temporarily reside at the Center before finding their forever homes.
The Adoption Center is also the place where all our cat supplies are shipped to, stored and disseminated. While
COVID has affected the level of activity in recent years, the Adoption Center has been a meeting place where
youth organizations have come to learn more about cats or where an occasional birthday has been celebrated.
It's also been a place where middle- and high-schoolers can perform required community service hours.  And,
it's always a place where the public comes to visit and just celebrate cats!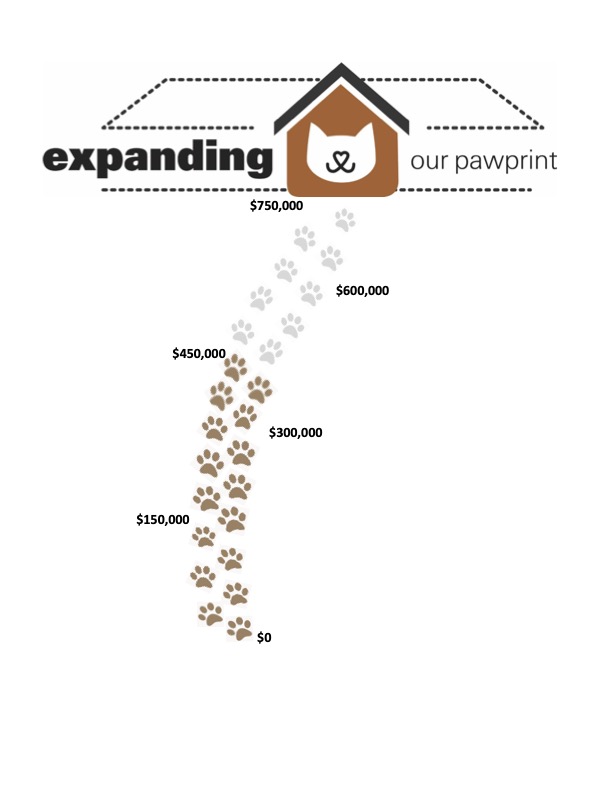 While the Adoption Center has served us well, it is not meeting our needs as well as it should. We believe that
a new building would offer us so much more functionality to provide the best possible environment for both
cats and humans – a place in good repair, highly accessible, safe/secure, and easy to clean. We need a larger
play space separate from specialized areas for intake, administration, laundry, cat intake and "sick bay." We
need additional storage that is more easily accessible. We need a place that can provide handicap accessibility
and a place where people can privately meet and interact with their potential new "best friend." And, we hope
to have a place with additional public space to hold educational events, meetings, adoption events and pet
clinics.
In the fall of 2019, we kicked off our Building Fund Campaign. Since that time, we've been moving forward toward our five-year goal of $750,000 – and in spite of the many challenges we've encountered during the past few years, we're still maintaining great momentum in our move toward our final goal!
We have not reached this point on our own! You, our supporters, have made it possible for us to dream bigger,
to stretch and to grow! We ask for you to continue on this journey with us to move forward "paw by paw" to
make our vision a reality!!!