A Vision of the Future for Kindred Kitties
For eighteen years, Kindred Kitties has called the Adoption Center on 59th Street in Kenosha home. It has played an important role in the life of our organization. The Center was opened primarily to house adult cats in a place where people could see and interact with them, and ultimately adopt them.
Over time, however, it's become more than just a place where adult adoptions happen. It's become a hub of activity for both foster families and volunteers. It is here where as many as 200 cats and kittens a year are seen for intake and transfer to foster homes. And about 15% of those cats will return from foster homes to temporarily reside at the Center before finding their forever homes.
You've been hearing us talk a lot over the last several years about our dream to provide the best possible environment for our cat by working toward the purchase of a new building. In 2019, we kicked off our Building Fund Campaign with a goal of $750,000. While we haven't reached our goal, we are making significant progress. Just recently, a generous donor sponsored a two-month Match Challenge which added $14,923 to our building fund and pushed our total up one more paw print to $492,000!
We are now moving into the planning and investigative phase to search out what our best options will be for the new Adoption Center, and to even check out a few buildings. We have not reached this point on our own! You, our supporters, have made it possible for us to dream big! We look forward to continuing this journey with you, as we make our vision a reality!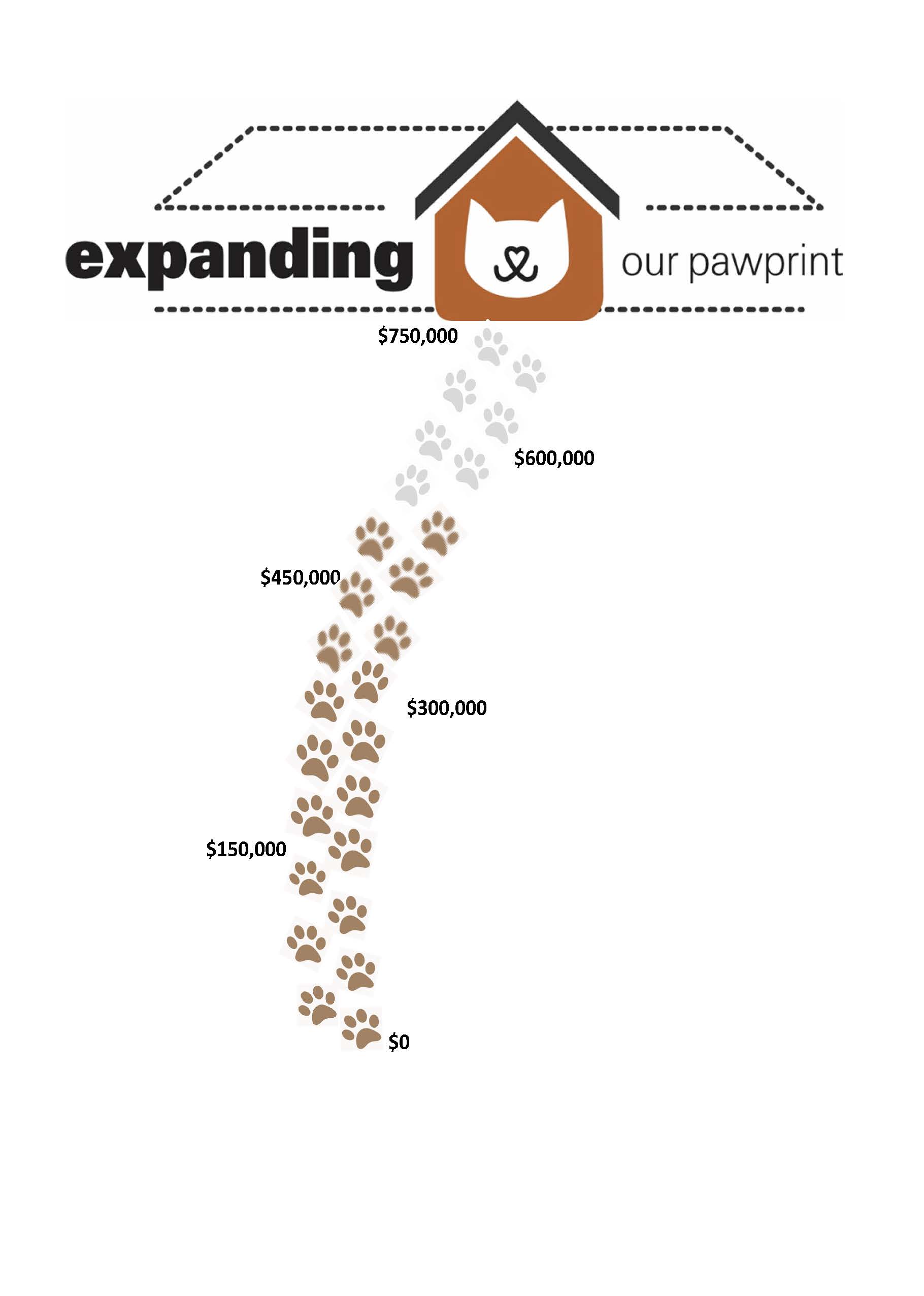 While the Adoption Center has served us well, it is not meeting our needs as well as it could. We believe that a new building would offer us so much more functionality to provide the best possible environment for both cats and humans – a place in good repair, highly accessible, safe/secure, and easy to clean. We need a larger play space separate from specialized areas for intake, administration, laundry, cat intake and "sick bay." We need additional storage that is more easily accessible. We need a place that can provide handicap accessibility and a place where people can privately meet and interact with their potential new "best friend." And, we hope to have a place with additional public space to hold educational events, meetings, adoption events and pet clinics.