Spring is coming and so is kitten season! It's also time for Kindred Kitties' Hike to Lower the Spike 2022 Spay/Neuter Awareness Event. (This is a hike on trails through the woods – not a walk on pavement).
Date:  The hike is Sunday, May 22nd, 2022
Location: Bristol Woods Park, 9800 – 160th Avenue, Bristol, WI.
Time:  Registration and T-shirt pick-up is at 9:00 a.m. and the hike begins at 10:00 a.m.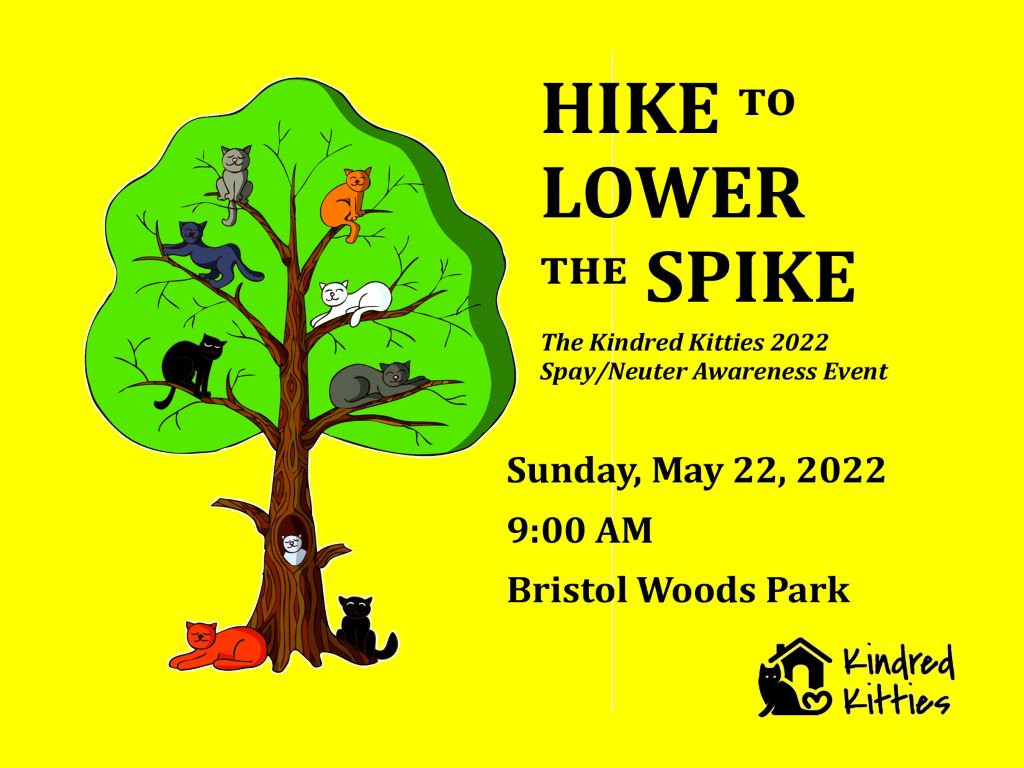 We're very excited to hold the event at Bristol Woods. The 200-acre park is the most natural park in Kenosha County and is home to the Pringle Nature Center. Bristol Woods Park has  4.28 miles of hiking trails so you can pick the distance you want to hike. Come out for an enjoyable morning hiking through the woods for a great cause – raising money to spay/neuter more cats! There will be raffles, merchandise, a bake sale, fun photo ops and, as always – CAT BINGO in the shelter.
How can I be involved?  There are several ways in which you can be part of Hike to Lower the Spike!
1. Become a Sponsor! We are looking for businesses, families, and even pets to sponsor the event. The sponsorship form to the right has all the necessary information.
2. Be a Participant! The more hikers the better.
Early registration for individuals nine years of age and older is $25 and includes a T-shirt.
The deadline for early registration is May 6. 
Registration May 7 through the day of the walk is $30 and T-shirt availability can't be guaranteed.
You can register online on Eventbrite by clicking the box to the right.
Or print out a paper registration form and turn into Kindred Kitties.
3. Bring a friend, form a team, walk your dog (dogs must be friendly, leashed and up to date on vaccines).
4. Collect pledges.  You can also help spay/neuter even more cats by collecting pledges. A Pledge sheet and information about incentives for collecting pledges can be found by clicking the button on the right.
Come out and have a fun time while bringing attention to a critical issue – preventing pet overpopulation through spay/neuter.
Hope to see you there!